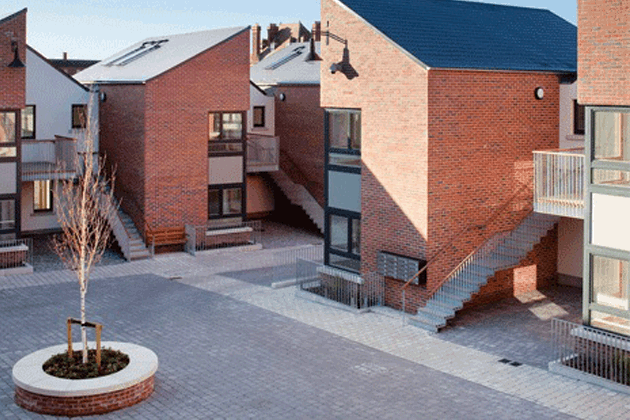 Dublin City Council has received two major accolades at the highly prestigious 2013 Annual Awards of the U.K. Civic Trust, at a recent award ceremony in Cardiff.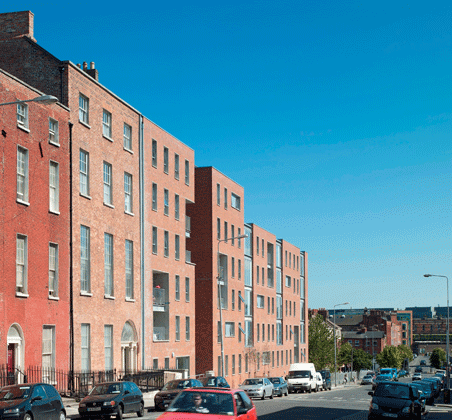 McKee Court, Blackhorse Avenue, a Senior Citizens complex of 38 apartments and a community room received an award in the International Projects category. The award jury said, "the scheme is a positive development in this part of Dublin and ensures that there is a mix of age groups within the area, whilst giving the residents the security of their own community".  The scheme, designed by the Council's City Architects Division was among two others awarded in this category; the Arts Campus at Umea University, Sweden and the urban space at Superkilen, Copenhagen.
Sean Treacy House, Buckingham Street, a Regeneration Project designed by Paul Keogh Architects, received a commendation in that category also. The scheme consists of 53 apartments, duplexes and a community room. The award jury particularly noted the success of the scheme's street façade, and its use of materials and colour to create a sense of unity with the adjoining Georgian terrace. Only one other scheme received a commendation in this category, a student residence in Paris.
Dublin City Architect Ali Grehan said, "We are delighted to be honoured in such distinguished company.  It is wonderful that an international jury recognises the importance of designing high quality social housing for families and the elderly".
McKee Court and Sean Treacy House were both funded by the Department of Environment, Community and Local Government.
The full list of schemes which won awards in 2013 can be seen here.