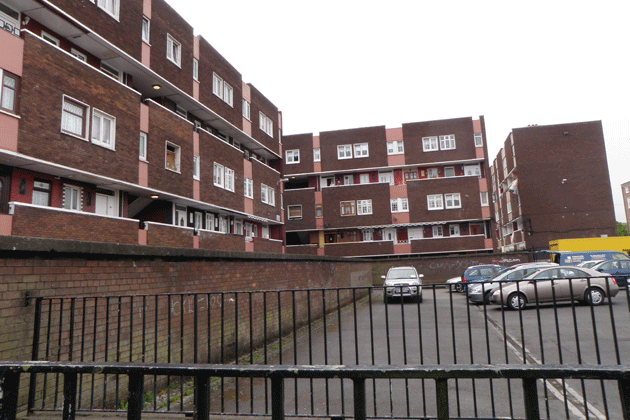 Dublin City Council is one of the key providers of housing in the city. The Council lets and manages 27,000 homes, 11,000 of which are flats or apartments arranged in 249 flat complexes, 106 of which provide homes for older people. A critical aspect of City Architects work is to undertake flat complex improvement projects in collaboration with DCC's Housing Maintenance section.
Problematic flat complexes are characterised by a disruptive site plan within the urban context. The space between buildings and adjoining areas is often poorly formed, owned by everyone and no one and this is manifested in palisade fencing and barbed wire boundaries between flat block and neighbour.  Poorly maintained or boarded up complexes have a corrosive impact on the neighbourhood at large and on the immediate streetscape (see more on this issue in the Draft Public Realm Strategy here). In addition, many flats in older complexes do not perform well when measured against current building regulations. They are often small internally by modern standards, particularly the 'bed sits' typically provided in the past for older people, which are difficult to re-let once when vacant. While the regeneration strategy over the last decade has been to demolish and rebuild (Ballymun, Fatima Mansions, St Michael's Estate, O'Devaney Gardens and Dominick Street), the focus now is on the need to make environmental and energy improvements and to conserve, stitch, repair and renew through resourceful design innovation.
City Architects has undertaken a city-wide audit of all DCC flat complexes and produced a complete visual inventory. This register, in addition to being a photographic record, provides high level information such as location, site plan, date of construction and condition. The benefit of this work has been both to enable each Area Architect[1] to get an overview of all complexes and to be a first step in assisting the Housing Department in producing a city-wide renewal programme. While comprehensive information already exists on databases, visualisation facilitates general discussion and decision making. This visual appraisal is now being developed through detailed surveys which include socio-economic criteria. A detailed condition survey of every home in Dolphin House (392) and St Teresa's Gardens (357) has just been completed.
The overarching goal is to ensure that all Dublin City Council's tenants live in good homes which are positively integrated into the city.
Images: Matt Talbot Court; St. Andrew's Court.
---
[1] there are five administrative areas in the city with an architect assigned to each.