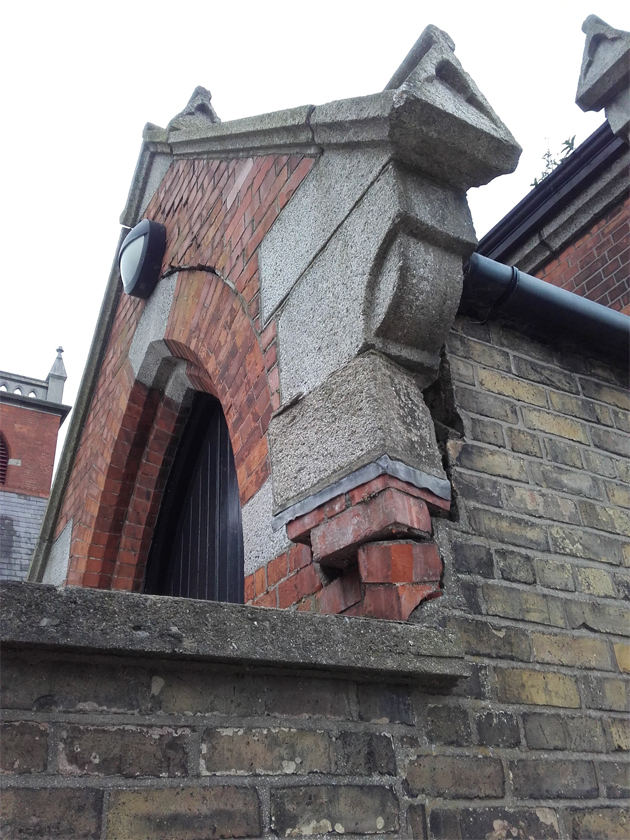 Parish Church of St.Catherines and St.James, Dublin 8.
'Dangerous Buildings' is a statutory section within DCC, under the direction of the City Architect, which is concerned with buildings, structures or sites deemed a danger to the public. It operates under the remit of the Local Government (Sanitary Services) Act 1964 as amended.
'Dangerous Buildings' work includes monitoring, inspecting, reporting, removing or making safe any building or structure perceived to be a danger within the Dublin City Council area. A team of four DB Inspectors monitor and respond to reports on a day-to-day basis. We do not take action under DB legislation without proper and expert consideration. This will range from undertaking structural engineering surveys and obtaining detailed Conservation Officer advice where appropriate. We will always look to undertake the least invasive works in making a structure safe and only undertake demolition in whole or in part when absolutely necessary. It is also important to emphasise that, under the DB legislation, we cannot undertake remedial works to a property beyond 'making safe'.
DB Notices are issued to the owners of properties advising necessary remedial action or, as a last resort, taking immediate action to remove danger and making safe. These Notices take the form of:
DB.3 (black) – requires the owner of the property to carry out the described works necessary within 28 days;
DB.2 (green) – requires the owner of the property to carry out the described works necessary within 14 days;
DB.1 (red) – enables the DB Inspector to access the site with the necessary equipment and personnel to immediately make safe and eliminate danger at the property or structure. DCC DB will look to recoup any costs associated with the works from the owner on completion.
Following on from the 2016 series of notices. DB1 notices issued in February 2017 are as follows:
• 01.02..2017 – Salmon Pool Apartments, Chapelizod Road, D8.
Taking down, removal & making safe sections of unstable boundary wall.
Owners: Cathal Mallon, 79 Sandemount Avenue, Dublin4
and Fewcott Ltd. c/o Keenen Property Management, Unit 13/14 Woodford Court, Santry, Dublin 17
• 01.02.2017 – 13-14 Exchange Street Lower, D8.
Re-secured breach / unstable front boundary hoarding, as of 25/12/2016 & 08/01/2017.
Owners: Tom Kavanagh (receiver) Deloitte Touche Tohmatsu Services Inc. Earlsfort Terrace, Dublin2.
• 01.02.2017 – 30 Frederick Street North, D1. Protected Structure.
02/04/2015 – Installation of internal steel frame supporting structure, bracing & securing all window / door opes, weathering to rear elevation & roof, following compromised structural integrity & collapse.
Owners: The representatives of the Estate of Mary Walsh & Patrick Walsh
• 01.02.2017 – Mews structures to rear 127-131 Tritonville Road, D4.
Removed dangerous scaffolding and re-secured against unlawful entry.
Owners: Con and Pamela Creedon, c/o Mark Degnan, Deliotte Ireland, 29 Earlsfort Terrace, Dublin2.
• 09.02.2017 – 110-111 Cork Street, D8
Re-secured displaced sheet tin to front wall.
Owners: Ian Skeffington, Hanlons Lane, Malahide, Co.Dublin
• 09.02.2017 – Old Crosson Garage, Malahide Road, D17
Removed collapsed hoarding from public footpath.
Owners: Dunmull Ltd. c/o Sam Buck, 18f Main Street, Dundrum, Dublin 14.
• 09.02.2017 – 20 Windmill Road, D12.
Resecured collapsed hoarding of vacant site against unlawful entry
Owners: Paul Tollman & Eilish Tollman, Gurteenroe, Macroom, Co.Cork.
• 16.02.2017 – 53 Oakley Road, Ranelagh, D6.
Reduced height of unstable boundary wall.
Owners: Joan Gordon, Teach Mount Gale, Rathmoyle, Co.Kilkenny
• 16.02.2017 – Parish Church of St.Catherines and St.James, St.Catherines Avenue, D8. Protected Structure.
Removed section of brick/stone arch at risk of collapse following collision.
Owners: Canon Mark Gardiner, St.Catherines Rectory, 248 South Circular Road, Dolphins Barn, Dublin 8.
• 16.02.2017 – 37 Thomas Court, D8.
Re-secured ground floor front window ope.
Owners: Ruari O'Ceallaigh, c/o Collins Crowley Solicitors, 2a Christchurch Hall High Street, Dublin 8.