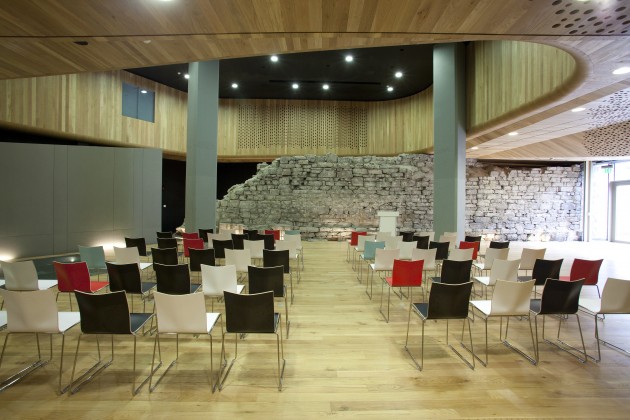 Dublin City Council held an information session in the Wood Quay Venue on Monday 15th October at 3.45pm for Architectural, Civil & Structural Engineering and Quantity Surveying practices, in advance of initiating the public procurement process.

The open invitation to participate was by way of notification sent to The RIAI, The ACEI and The SCSI for circulation to members.
A copy of the presentation given at this briefing session can be viewed by clicking the link below.
Please note that the content of the presentation is for information purposes only.
 Background to briefing session
Dublin City Council will shortly be requesting expressions of interest for inclusion on multi-party, architect led integrated design team frameworks, to be formed in two lots as follows:
–        Lot 1 – For projects with an estimated construction value of less than €15m
–        Lot 2 – For projects with an estimated construction value in excess of €15m
Proposed integrated design teams must include following disciplines:
–        Architectural Services (incl. design team lead, fire safety design services, disability access design services, employer's representative for the Works Contract, design certifier and assigned certifier services as defined under the Building Control (Amendment) Regulations 2014).
–        Civil & Structural Engineering Services,
–        Quantity Surveying Services
–        Mechanical and Electrical Engineering Services
–        Project Supervisor for the Design and Construction Process,
In addition, the following ancillary services to be included in Expression of Interest. These team members may be required on a project by project basis
–        Landscape Architectural Services,
–        Conservation Architectural Services
–        Environmental and/or Energy Conservation Consultant,
Ancillary design team members may be party to a number of applications.
Appointment of design teams will be on the basis of an initial competition, with the successful applicant being awarded the contract for that initial project. This competition will also form the basis for establishing the framework in each lot. Subsequent contracts will be awarded on the basis of mini competitions to be held for each proposed project. While the make-up of the proposed design team will be dependent on the requirements of each individual proposed project, the full details of the required design team will be set out in the project specific briefing information issued in each case. It is envisaged however that the minimum design team in each project will consist of Architect, Civil & Structural Engineer, Quantity Surveyor and PSDP, subject to project requirements.
The range of projects to be awarded under these frameworks may include but not necessarily be limited to: feasibility studies, master-planning services, new build residential projects delivered through traditional contracts, new build residential projects delivered via design & build contracts, area regeneration projects, residential retro-fit/refurbishment projects, conservation projects & works to protected structures, small works, public realm and precinct improvements, public buildings etc.