Here are some images of progress on a number of housing projects currently on site, with some interesting photos taken from the site tower cranes.
Cornamona Court
The contract for 61 homes was awarded to Cunningham Contracts Limited and works commenced on site in June 2019. Good progress is being made in the basement and substructure works and it will hopefully not be long before superstructure will be evident above ground. The programme for completion is March 2021.
O'Devaney Gardens Phase 1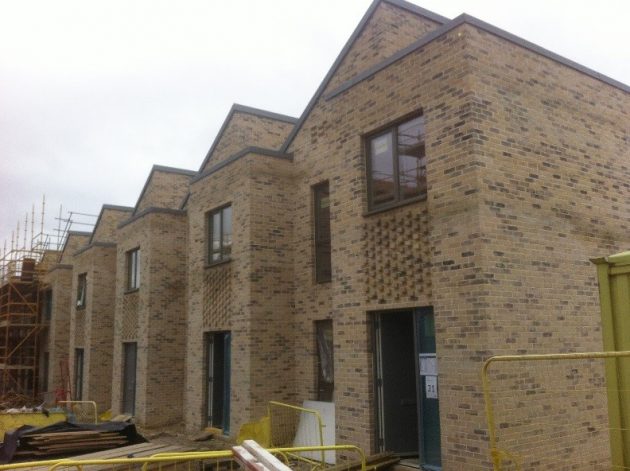 The scaffold was struck in early December on the first terrace of houses at O'Devaney Gardens, Phase 1, revealing the honey coloured brick facades, alu-clad windows and zinc roofs. Works are proceeding on the internal works and services installations in these houses. The contractor, PJ Carey, is continuing to advance the remaining houses in this block and the houses and apartments in an adjacent courtyard block leading to the completion of the 56 new homes in this phase anticipated at the end of the year. Phase 1 was designed and is being managed in-house in by City Architects with consultant engineers and DCC Quantity Surveying Division.
Dominick Street Lower
City Architects Division and their consultant architects, Denis Byrne Architects and Carr Cotter & Naessens Architects, are managing the construction of a large mixed use development including 72 homes for social housing. The contract was awarded to Duggan Brothers Contractors Limited and works commenced on site in January 2019. Progress has been good despite the difficult ground conditions and extensive archaeology and the structure is now progressing at first floor level. The development is on programme to be completed in May 2021.
Sean Foster Place
City Architects Division are managing this complex project for 30 apartments on North King Street, in Dublin 1. The development is a pilot scheme for Near Zero Energy Buildings. The contract was awarded to Duggan Brothers Contractors Limited in March 2019. The programme included for an initial period when compliance issues affecting the energy performance of the building, material selection and services design had to be agreed before construction started on site. Despite extensive archaeological findings and difficult ground conditions, substructure works are now complete with ground floor slab pours ongoing and reinforcement placement for rising elements in train. The project is on schedule to be completed in March 2021.
St Teresa's Gardens
Work is progressing well on the construction of 54 new homes at St. Teresa's Gardens with completion planned for the end of September 2020. Purcell Contractors Limited were awarded this contract at the end of 2018 and commenced construction in early January 2019. The houses and apartments are presently at second floor level and brick work and roofing has now commenced. The scheme was designed in house by City Architects Division, who are managing the project along with DCC Quantity Surveying Division and a team of engineering consultants.