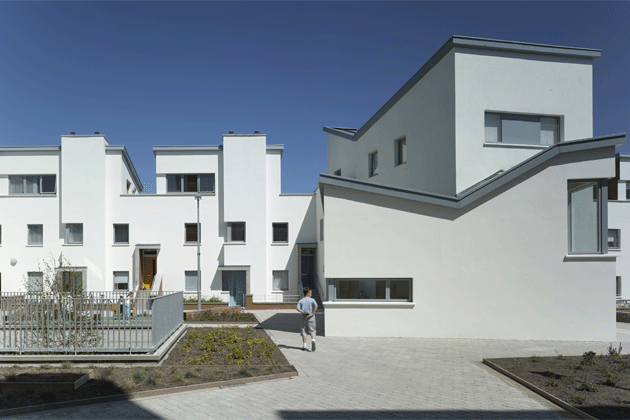 Paul Keogh Architects' Sean Treacy House has been shortlisted for the People's Choice Award in this year's RIAI annual awards.  Recent winner of Best Regeneration Project and Best Overall Project in the Irish Council for Social Housing Community Housing Awards, the project was officially opened in May by Minister for Housing and Planning, Jan O'Sullivan and Lord Mayor, Andrew Montague.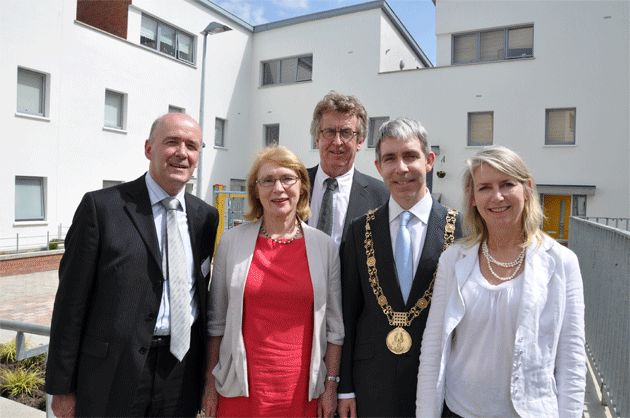 Pictured: Justin O'Brien (Circle Voluntary Housing Association), Minister Jan O'Sullivan, Paul Keogh, Lord Mayor Andrew Montague, Rachael Chidlow.
Commissioned by Dublin City Council, funded by the Department of the Environment, Community and Local Government, managed by Circle Voluntary Housing Association, and constructed by McCabe Builders, the 53 unit scheme completes a key part of the North East Inner City Integrated Area Plan.
Congratulating PKA and the City Council on the excellence of the design, Jan O'Sullivan emphasised her personal commitment to urban regeneration and 'creating the communities that people deserve, and often in areas of our cities that have been blighted by decades of neglect.'  Emphasising the imperative to get more people living in city and town centres: Andrew Montague said "Sean Treacy House is an excellent example of high density, high quality urban living – a place where I would like to live myself." 
You can read more about the scheme here and to register your vote for Sean Treacy House in the People's Choice Awards go to www.architectureawards.ie