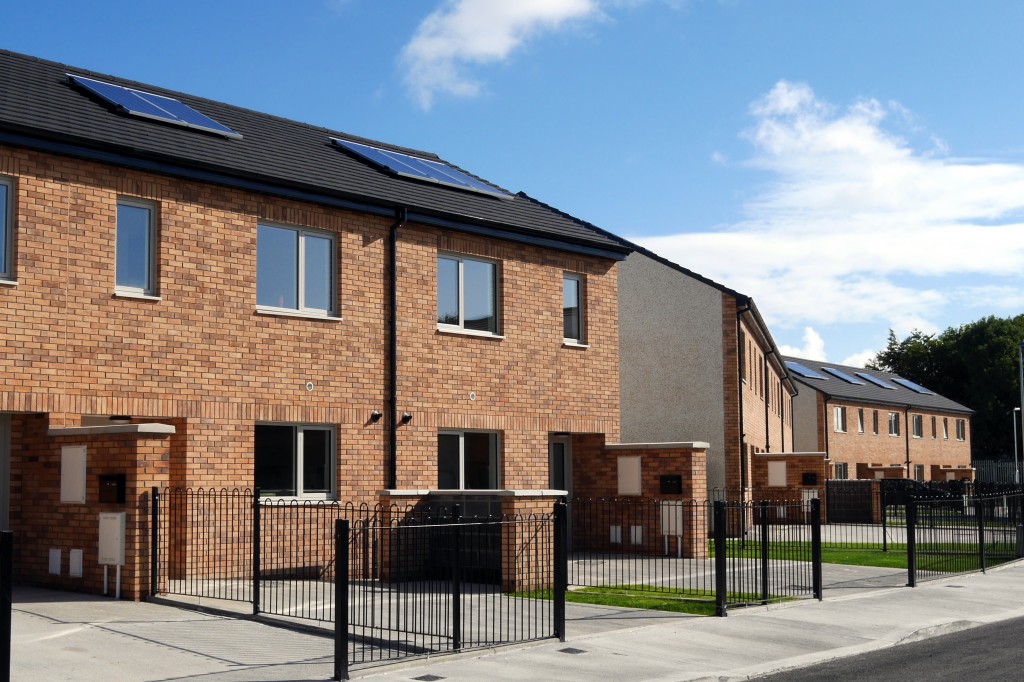 21 families moved into new homes this week!
Delivering under pillars one and two of the Rebuilding Ireland Action Plan, Dublin City Council earlier this week took possession of the first phase of the St Helena's rapid delivery housing project.
A site adjacent to St. Helena's Family Resource Centre was identified as being suitable to accommodate one of the DCC's rapid build projects. Dublin City Council tendered for the provision of 40 houses on the site at St. Helena's Drive, to be delivered via a design & build contract.
The house types and design were based on the pilot project of 22 rapid delivery housing units in Poppintree, Ballymun and incorporated the lessons learned through that project.
St Helena's was designed and built by ABM contractors. The development comprises 40 new homes, with a mix of two and three bedroom house types. Oversight and supervision was provided by DCC's Rapid Build Team consisting of Architects, Engineers, Clerk of Works and Quantity Surveyors. Consultant architects O'Briain Beary acted as ER and Assigned Certifier for the works on behalf of DCC. ABM's design team was led by Van Dijk Architects.
Manufacture and on-site construction commenced in October 2016. Partial off site construction for social housing can mean significant shortening of overall build times for projects, with this project being completed in 11-12 months compared to 20-24 months for a traditionally built scheme. Off site construction permits large sections of the build to take place in parallel rather than in sequence, and in addition, a higher level of quality control can be achieved due to factory controlled conditions.
The main structure comprises a light gauge steel frame, which is manufactured as panels off site and then brought to site for assembly. The houses feature high quality finishes externally, with a traditional brick main elevation, rendered finish block to side and rear, with a private rear garden. Triple glazed thermally broken Alu-clad timber windows and external doors are provided as standard. Internally the accommodation includes on the ground floor a recessed entrance, entrance hall, WC, kitchen to front with utility, and living/dining room to the rear. The first floor layout features two or three bedroom layouts depending on the house type, with a central bath room and hot press. Heating is by gas fired central heating and radiators. 'Photovoltaic' (PV) solar panels have been installed to the roof and will contribute to the reduction of electricity consumption.
The houses are A-3 energy rated, and are built to a standard fully compliant or in excess of current building regulations. They are also fully compliant with Development Plan and Department of the Environment space standards and are suitable as standard Dublin City Council housing stock.
The first families are already moving in and the next phase is expected for completion and occupation this October.