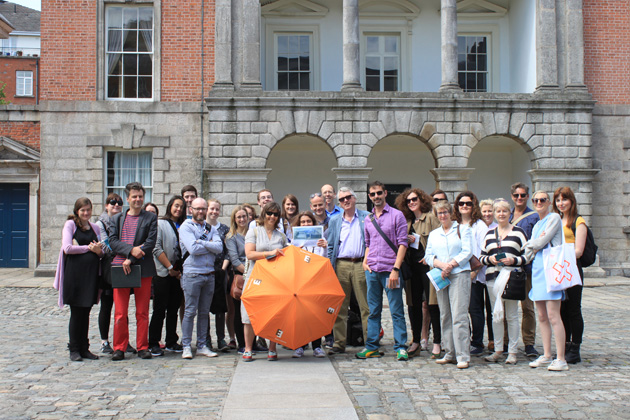 A walking tour of the Aungier Estate, organised by the Irish Architecture Foundation, took place on Thursday 9th July. Tour guides included Nicki Matthew, Architectural Conservation with Dublin City Council, and Marc Richie from the conservation office in the Department of Arts, Heritage and the Gaeltacht.
The tour sought to highlight the origins of 17th century Aungier Estate from the more familiar successor Georgian era, exploring it's rich cultural heritage while also considering opportunities for the regeneration of the area.
The tour began in Dublin Castle with an introduction by Jenny Papassotiriou, Head of Education at Dublin Castle which set the context for the development of the Aungier Estate, Dublin's first planned post-medieval housing development. It was built between 1660-1685 and shared it's origins of view, scale and character with Dublin Castle in the 17th century.
With the restoration of Charles II to the throne, Dublin saw a surge in building programme and architectural eandeavour. Dublin Castle itself saw the construction of the archway in the Upper Castle Yard under William Robinson. The tour explored the development of the area as a result of it's close proximity to the Castle, with the Duke of Ormonde ensuring that he would have sight of all processional traffic in and out of the Castle through Ship Street.
Four 17th century houses still survive on Aungier Street with the possibility of other survivors of a similar date still to be uncovered in the area. The tour concluded with a walk around one such house, 9/9A Aungier Street. At 350 years old, is believed to be Dublin's oldest house and is one of the earliest buildings in the Aungier Estate.  Incredibly, it arches two different periods of construction methods: the timber framing techniques of Medieval Ireland and mass masonry construction of the Georgian period. It is one of the most intact structures of its period and is a Registered National Monument as well as a Protected Structure.
Thank you to all who came! There will further tours of the area in due course but in the meantime, feel free to download the tour guide to explore the area yourself!
Image credit: Irish Architecture Foundation.
* The orange umbrella is from Historic Scotland which seeks to promote World Heritage Sites. Dublin is on a tentative list of World Heritage Sites.