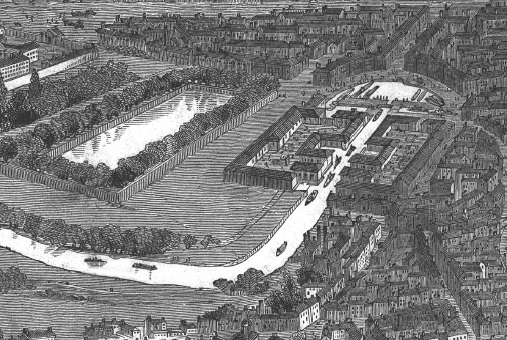 Ever wondered why there is such a dominance of churches and distilleries in the Liberties area? Why there is still such a strong tradition of markets and industry?
Join Dublin City Conservation Officer, Nicki Matthews, to explore how the supply of water moulded the Liberties into the area it is today.
Various number of water courses ran through the Liberties area, many of which have now been diverted underground but formed an important role in its development. During the medieval period, St. Thomas' Abbey rerouted streams of water from entering Dublin city in order to harness their affluence and importance to the city. Industry would later flourish in the area during the 17th and 18th centuries with brewing, distilling and tanning industries all taking advantage of the plentiful water supply for their manufacturing purposes. The construction of the City Basin and Grand Canal Basin further enhanced the area's reputation as the most significant industrial area in the city by providing a more reliable means of transporting goods.
Water played an essential role in the development of the Liberties – join us as we guide you through the history of the area and how its water supply would determine the course it was to take during the ages!
The tour begins at 10.30am at Christchurch Cathedral (Civic Offices) on Tuesday the 25th August and will take approximately an hour and a half, finishing up at Guinness Storehouse.
For more information and to book your place on the tour, click here.