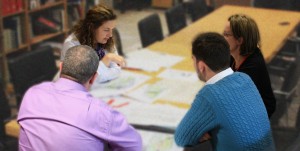 The bio on the @dubcityarc Twitter handle puts it succinctly:
"Dublin City Architects promotes design and provides architectural, urban design and conservation design services to Dublin City Council".
Over the next few weeks we'll be posting information on recent and current projects. But first, an overview.
City Architects is a multi-disciplinary Division within Dublin City Council employing:
•   Architects, some of whom are also Urban Designers and Conservation Architects;
•   Architectural Technologists and Technicians;
•   Civil and Structural Engineers;
•   Clerks of Works;
•   All supported by a team of Administration staff.
City Architects sits within the Dublin City Council's Housing and Community Department, and most of our current work focuses on housing needs. We've posted blogs on some of these recently e.g. Dolphin's Barn Regeneration, Rathmines Crescent, McKee Park and the Rapid-Build projects. We are lead architects on many projects and work with great consultant architects, acting as client representative. We are also involved in large scale Public/Private developments such as the Housing Land Initiative.
City Architects also serves the design needs of other DCC Departments. Our team structure reflects this as does the diversity of our work. For DCC's Culture, Recreation and Economic Services Department (CRES), we're progressing a programme of council-wide Library upgrades. We're involved in several Public Realm projects, working in collaboration with DCC's Environment and Transportation Department and the Parks Division. We work with the Planning and Property Development Department and, amongst other things, assist in the development of the Dublin Docklands, the Poolbeg SDZ and the recent Ballymun LAP. We also work for Local Area Offices and on Corporate projects for the Chief Executive.
In addition, our Dangerous Buildings Section fulfils a statutory role, ensuring that all structures that may present a danger to the public are assessed and dealt with appropriately. We post a monthly update on this.
As we share more about the diverse work of the City Architect's Division over the next few posts, we'll cover, in more detail, our recent and current projects in work areas such as:
•   Housing
•   Public Realm
•   Cultural and Corporate Projects
Stay tuned!