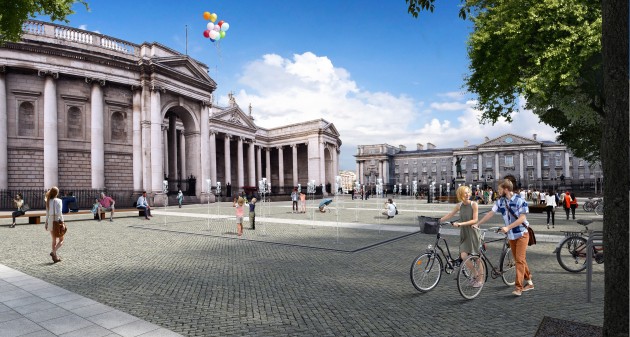 College Green Plaza; Architect: Paul Keogh Architects & Dixon Jones Architects
Image by: Philip Kelly – Sketchrender 3D Visualisation
Dublin City Council has confirmed that a further period of public consultation will take place on its proposals for the development of College Green as a civic plaza. This follows the submission of further information requested by An Bord Pleanála regarding the effects of the proposed development on the environment and the impact of the ancillary traffic management measures required.  This further submission from Dublin City Council included an Environmental Impact Assessment Report (EIAR) and contained significant additional data, hence the decision to engage in further consultation.
The public consultation process will start on 16th November for a three-week period. Details will be announced in the national press and the submission will be available for inspection at An Bord Pleanála (64 Marlborough Street, Dublin 1), at Dublin City Council's Civic Offices (Wood Quay, Dublin 8) and on its website. Submissions or further observations in relation to the further information may be made in writing to An Bord Pleanála by 7th December 2017.
Following the close of the inspection period and consideration by An Bord Pleanala of the submissions/observations received it will be a matter for An Bord to decide whether or not to hold an oral hearing.  If they do so decide, it is anticipated that an oral hearing could be held sometime early in the New Year.