The South East Area office commissioned the services of the City Architects Public Realm Team to design a public realm improvement scheme for the Ranelagh Triangle. The project brief was to reconsider the memorial to Deidre Kelly, local historian and activist, which, had ongoing issues regarding maintenance and suitability and to improve the existing public space. The re-imagined memorial was agreed with the Kelly family.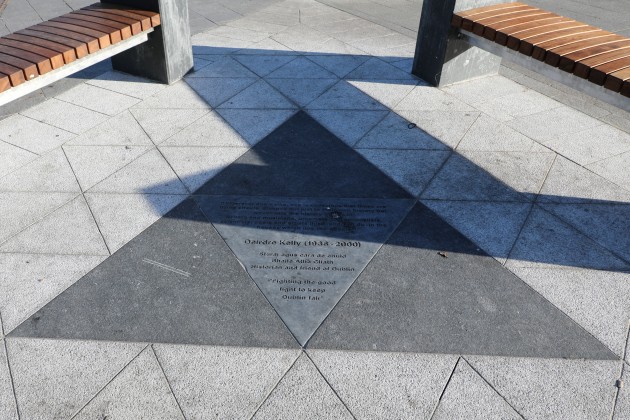 Images by City Architects.  
Ranelagh village is a vibrant urban village located the south side of Dublin City. The project is situated in a busy pedestrian area known as the Ranelagh Triangle, located at the heart of the village. The triangle is bounded on two sides by heavily trafficked roads, Cullenswood Rd and Ranelagh Rd, and on the third side by a terrace of shops.
The project, completed December 2017, comprises of the laying of new area of natural stone paving, the installation of 3 no. benches and associated lighting.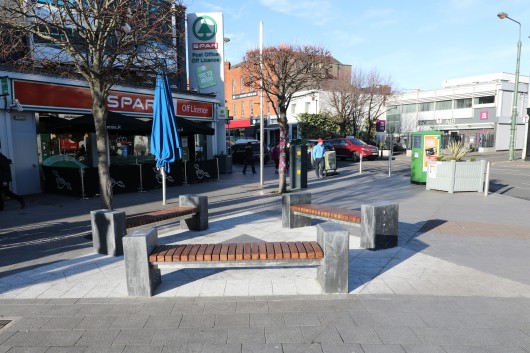 The Ranelagh triangle was upgraded by Dublin City Council in the early 2000's with Chinese granite flag paving, new public lighting and trees. The palette of materials for the new proposal was selected to compliment and enhance the earlier scheme. High quality Carlow limestone and Leinster granite paving flags were carefully inset into the existing granite paving forming a new triangle shape. The central limestone flag is inscribed to the memory of Deirdre Kelly. Working with the DCC Arts officer the text was agreed with the Kelly family and a local stonemason was selected to carry out the inscription on the limestone flag. Three bespoke benches made from limestone, hardwood, stainless steel and incorporating LED lighting frame the 3 sides of the triangular paved area.