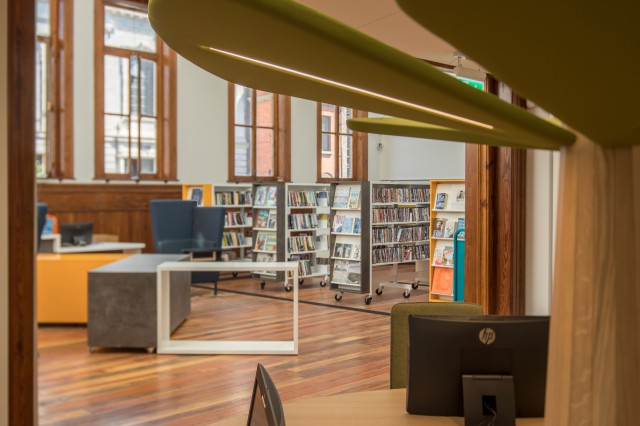 Image credit : Paddy Cahill  
The 13th edition of Ireland's largest architectural festival 'Open House' will take place across the city on Friday 12th October – Sunday 14th October. Dublin City Council funds Open House and has teamed up with the Irish Architectural Foundation to develop a programme that includes Dublin City Council buildings and projects that resonate with this year's festival theme: 'Tomorrows Past – Discover Our Future Heritage'.
As part of Dublin City Council's involvement City Architect staff will provide guided tours of these buildings sharing expert and interesting insights into the stories behind some of Dublin's valuable building heritage. Ali Grehan, Dublin City Architect says 'Open House is an opportunity for Dublin City Council to enable public understanding of the rich continuum of work shaping Dublin's present and sustaining our future'.
Some of Dublin City Council projects showcased to reflect this year's theme are;
1. 9/9A Aungier Street: The oldest, most intact domestic structure in Dublin City, it is a jewel in the crown of Aungier Street which started life as an elite 17th century development.
https://openhousedublin.com/index.php/tour/9-9a-aungier-street1
Sat: 11:00-17:00
2. 14 Henrietta Street: A 10-year project undertaken by Dublin City Council which set out to rescue, stabilise, conserve and adapt 14 Henrietta Street and is now presented as both museum and primary artefact of Dublin's history of tenements.
https://openhousedublin.com/index.php/tour/14-henrietta-street
Sun: 12:00-17:00
3. Dolphin House Regeneration: The first of a multi-phase regeneration of the Dolphin House estate which has seen the refurbishment of existing apartments as well as the construction of new ones totalling to 100 homes.
https://openhousedublin.com/index.php/tour/dolphin-house-regeneration-phase-11
Fri: 11:00-16:00
4. Dublin Food Markets, Past Present, Future: A tour of the history of the markets over the last 200 years and a look at plans for the future.
https://openhousedublin.com/index.php/tour/dublin-food-markets-past-present-future
Sat: 11:00-12:00
5. Kevin Street Library: Closed in 2013 for urgent repair work, Kevin Street Library reopened its doors earlier this year following extensive refurbishment restoring it as an accessible, relevant and socially inclusive public library.
https://openhousedublin.com/index.php/tour/kevin-street-library
Sat: 11:00-17:00
6. Main Lift Pumping Station & Lord Mayor's Coach: Commissioned in 1985 the MLPS serves the City Centre, Rathmines, Pembroke & Grand Canal. It pumps an average 265,000m3/day of wastewater while, in an adjacent building, the Lord Mayor's Coach, delivered in 1791 by William Whitton, sits in a climate environment unit waiting to make its three major outings each year.
https://openhousedublin.com/index.php/tour/main-lift-pumping-station-and-lord-mayors-coach
Sat & Sun
7. Pigeon House Power Station: The vast ruin of the former Pigeon House power station is one of the most striking industrial architecture complexes in the city and is now one of the largest protected structures in Ireland.
https://openhousedublin.com/index.php/tour/pigeon-house-power-station1
Sat: 11:00-15:00
8. The Rates Office: An elegant block in Portland stone at the corner of Cork Hill and Castle Street. The interior has been recently renovated and retains fine decoration, with highlights including the larger 1st floor oval room and the highly decorated ceiling over the stair hall.
https://openhousedublin.com/index.php/tour/the-rates-office
Sat 11:00-17:00
9. Rathmines Library: One of more than 60 public libraries in Ireland funded by Andrew Carnegie, the Rathmines branch opened in 1913 and following renovations in 2011, it stands as a fully accessible public library and fine example of Neo-Georgian architecture.
https://openhousedublin.com/index.php/tour/rathmines-library
Sat
10. Sealawn Lodge & St. Anne's Park Follies: Works carried out in 2017 have brought Sealawn Gate Lodge (c.1875) and 12 historic follies (1838-1904) back to life ensuring the enjoyment of these historic structures for years to come.
https://openhousedublin.com/index.php/tour/sealawn-lodge-st.-annes-park-follies
Sat: 11:00-17:00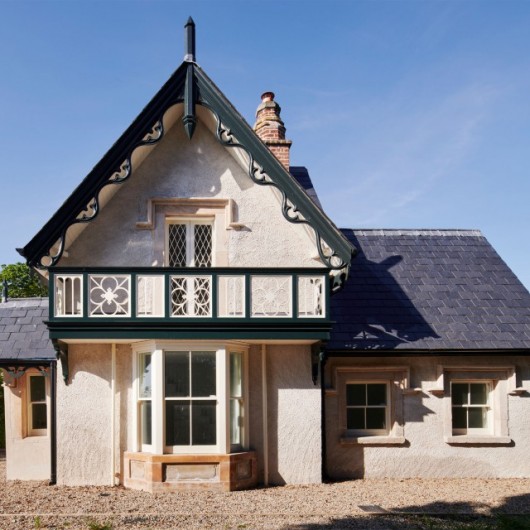 Image credit : Ros Kavangh
11. St. Andrews Resource Centre (Formerly St. Andrews National School): Over 18,000 square feet of resource facility dedicated to the parishes of Westland Row/City Quay situated in the former boys school which first opened in 1895.
https://openhousedublin.com/index.php/tour/st.-andrews-resource-centre-formally-st.-andrews-national-school
Sat: 12:00-17:00
Sun: 12:00-17:00
12. Weaver Park: Weaver Park is a distillation of the local community's aspirations with inclusivity at its core and now stands as a icon for the greening of The Liberties.
https://openhousedublin.com/index.php/tour/weaver-park-pairc-an-fhiodora
Sat: 11:00-13:00
Dublin City Council invites all Dubliners to experience and enjoy for free the architectural delights that will be showcased over the weekend of the Open House festival. For full programme details and further information visit: https://openhousedublin.com/.