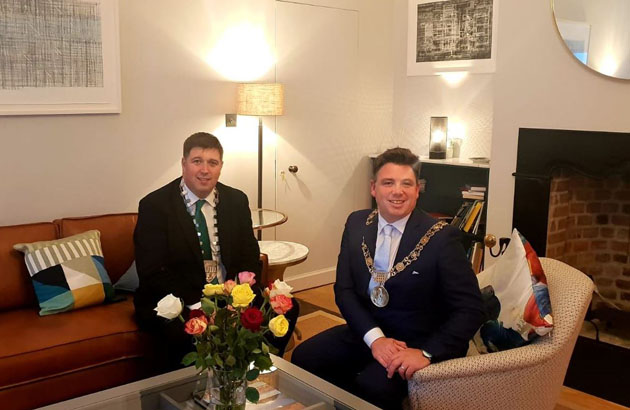 On the weekend of the All-Ireland Football Final, the Lord Mayor of Dublin, Paul McAuliffe, was delighted to welcome his counterpart and friend the Mayor of Kerry, Niall Kelleher, to stay in the Mansion House.
Mayor Niall Kelleheris the first guest to stay in the newly added formal guest quarters on the first floor of the Mansion House. The architectural, conservation and interior design works, completed in 2019, were designed by City Architects and constructed by the DCC Civic Maintenance Team and DCC Housing Maintenance Joinery Team.
The project reintroduced the historic room layout for this part of the 300-year-old house, which prior to its alteration in the 1970s, consisted of a series of smaller rooms to serve as the House Steward quarters.
The research and conservation work included uncovering evidence of the original floor layout, repairing the oak floor structure, restoring lime render and lath & plaster work and repairing the original sash windows and window seats.
Finishing work included uncovering a 'lost' fireplace with a Queen Anne period mantle, modern interpretations of the original wooden cornice and door mantle treatments and careful repairing of the uncovered original Baltic pine floor boards.
Bespoke joinery was created for the project, including flush panelling/storage to the bedroom, wood and marble sideboards, a frameless 'secret' door and a bed crafted from salvaged oak.
Artworks from the Hugh Lane Dublin City Gallery collection by artist Julie Merriman were selected for hanging in the renovated rooms. Part of the artist's 'Revisions' collection, the pieces were the culmination of a year-long engagement with Dublin City Council as part of the Public Art Programme and were inspired by DCC's extensive archive of architectural and engineering drawings mapping the development of the city over a 100 year period.
The new guest quarters represent the completion of another stage in a series of repair and improvement projects set out in the Mansion House Conservation Plan, prepared by City Architects in 2009.