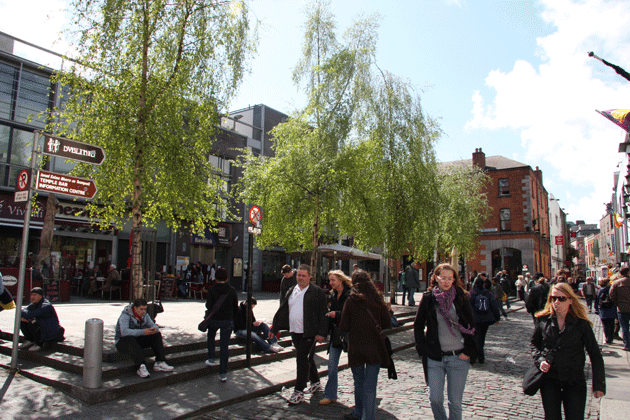 The recent launch of the Council's Draft Public Realm Strategy attracted significant media attention and a good bit of reaction – which is all great for getting as much input as possible during the consultation. All comments are welcome and comments on the Vision or the Challenges in the document will be a particularly interesting part of the collective discussion about how we want our city to be.
We thought it might be useful to have a look at some other urban strategies to see the sorts of policies and initiatives other cities are pushing to develop their spaces.
The City of Adelaide in South Australia has an ambitious project to discuss an overall future of the city putting ideas for all aspects of living in the city up for debate and including a "24 Hour City" strategy: 5000plus.net.au
World Design Capital 2014 winners Cape Town organised a street design challenge as part of their bid, taking a local approach to investigating issues and prototyping solutions: bit.ly/pTh27d
Bath's public realm and movement strategy focuses on spaces as the "canvas for public life" and building on the city's local character. An interesting aspect is the design of the joined-up door-to-door experience of people moving through the city. The plan was prepared by consultants City ID who prepared our own Legible Dublin Study in 2004: bit.ly/wvVsKm  
The London Borough of Hackney's approach goes into considerable detail and is based on acknowledging the range of local urban typologies. The approach (taken by Urban Initiatives on behalf of the Borough's Highways Dept) is interesting given the Borough's place in the larger context of a huge city like London: bit.ly/AhrcBG
 The Department of Transport in New York, where zoning was invented, introduced a Street Design Manual for improving the city's streets in 2010 and interventions already in place show a reawakening of the design of public space in a city which has traditionally taken a somewhat robust, utilitarian approach to streets:  on.nyc.gov/7sMCp
Another particularly interesting plan from New York is a 2005 study on the design of the New York Taxi as an element of public space prepared by the Design Trust for Public Space:  bit.ly/z4dKX3
(Please forgive a quick digression for New Yorkophiles with a good recent article about the 1811 grid here: nyti.ms/e9kmnH)  
In 2006 Barcelona focussed on public behaviour as the issue in public space with its by-law for Peaceful Co-Existence: http://bit.ly/wBh335 
This is just a scattered selection of work going on in various places and shows the different angles which people take when working to improve the experience of public space whether it is the specific design guidance for the 'hardware' of street furniture and materials etc. or the 'software' of working practices, decision making or behaviour.