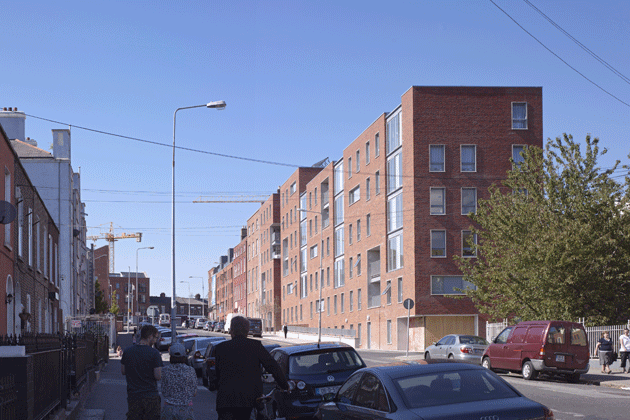 Sean Treacy House, a housing scheme completed last year, recently won two design awards from the Irish Council for Social Housing in the Community Housing Awards 2011.
As well as winning the Overall Award, it also won the category award for Best Regeneration Project.
 Who
The scheme, which is managed by Circle Voluntary Housing Association on behalf of Dublin City Council, was designed by Paul Keogh Architects under the direction of, and in collaboration with City Architects.
 What
The development provides fifty three new homes – a mix of duplexes and apartments around a private, bright, south-facing courtyard (12 one bed, 25 two bed, 14 three beds and 2 four bed homes) replacing a complex of 46 flats that was no longer fit for purpose.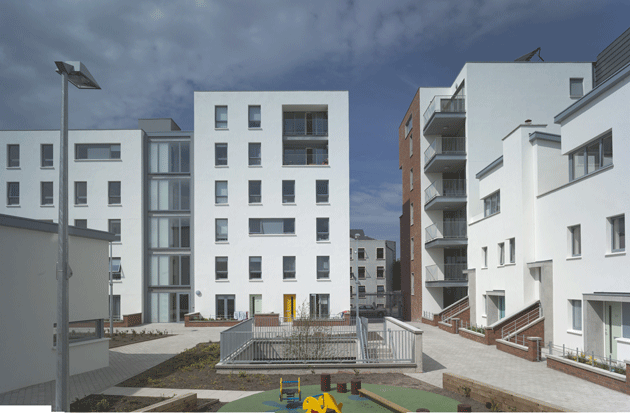 Why
In 1999 Dublin City Council prepared an Integrated Area Plan for the North East Inner City Area of Dublin (the NEIC IAP), an area located close to the main thoroughfare of the city with a long history of urban decay and social deprivation.
 The Council created a multidisciplinary team of project managers, administrative and community liaison professionals with professional and technical input from in-house architects, planners and engineers to generate strategic and practical responses to the problems in the area – primarily environmental, architectural and socio-economic issues.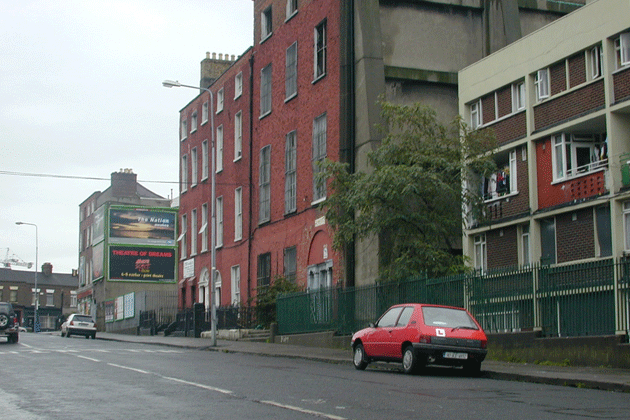 The scheme was conceived as an objective of the NEIC IAP and was the subject of considerable consultation with the community and public representatives.
How
The development 'repairs' Buckingham Street with a six storey 'bookend' building, abutting the gable of an important Georgian house and flanking the entrance to a private landscaped courtyard and play space. The new scheme carries on the formality of the Georgian remnant of the street through the scale, proportion and detailing of the restrained brick street frontages of the new buildings.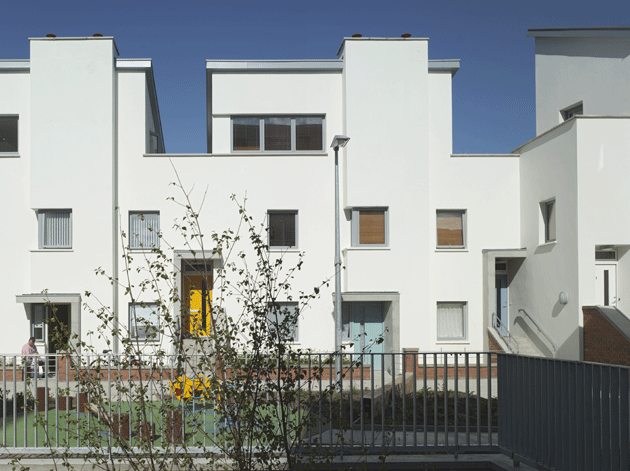 The housing is designed with dual aspect units overlooking the courtyard and the street with the aim of fostering the sense of community and promoting passive supervision of the shared spaces. The homes enjoy a variety of types of private open spaces, having either private gardens, balcony areas or roof terraces.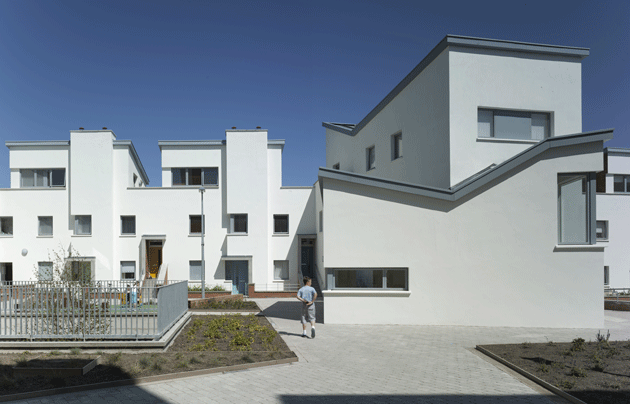 By responding to and exploiting the sloping site and the existing street frontages, the designers have generated an interesting and dynamic scheme with 26 diverse house and apartment types. All the houses have individual access directly from the street or the courtyard while apartments have private lift and stair access.
The courtyard is organised on two levels, with the central community building partially dividing them; car parking is on street or under the courtyard which is entered at grade from Empress Place. The sense of space in the courtyard is enhanced by the creamy white rendering of the surrounding buildings and the scale and modelling of the southern block.