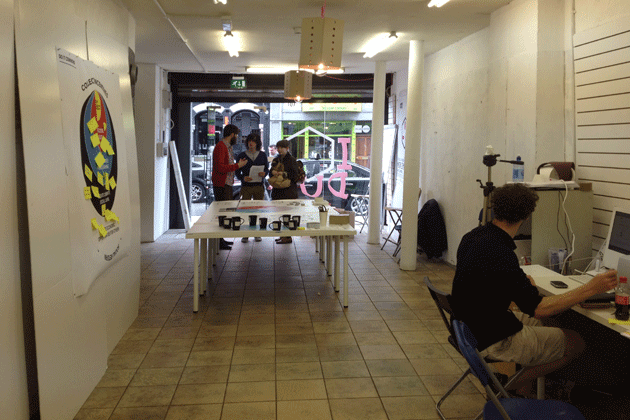 Earlier this summer, City Architects participated in the 'Ideas Lab', part of the Science Gallery's interactive 'Hack the City' exhibition running until 8th September as part of Dublin's designation as European City of Science 2012.
Presented in partnership with IBM and Dublin City Council, 'Hack the City' features the ingenuity of over 70 artists, scientists, engineers, designers and start-ups who are joining citizens in creative collaborations to share ideas and re-imagine the future of the city together. Hacking has always been associated with re-engineering and innovative appropriations of existing resources. But what happens if we take the philosophy of hacking and apply it to the urban environment?
As a build-up to the main exhibition and festival, the Science Gallery ran the pop-up 'Ideas Lab' in a vacant shop premises at No. 4 Capel Street (formerly Hackett's Garden Shop) from 14th -24th June. The Science Gallery held an open call for teams to submit ideas for the 10 day 'Ideas Lab' to address themes such as dereliction, crowd sourcing public data, safety and wellbeing, and open data transport services. Five national and international teams were selected to develop their ideas, comprising two Irish teams, an Italian team, a team comprising an Estonian and a South Korean, and finally a team comprising a single Irish-Zimbabwean person.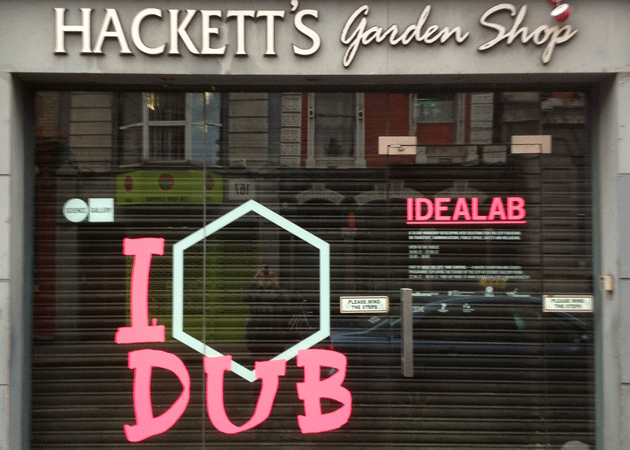 The selected ideas were:
City Race: A virtual social laboratory, where relationships between behaviour and environmental data are monitored (led by Prof. Vittorio Loreto)
Dublin Adventure Way: An urban assault course focused around vacant inner city spaces (led by Brian Dixon)
Biofeedback Kit: A portable EEG device for reading user's brain activity throughout the day (led by Jaak Kaevats)
Crime app: A smartphone app that allows people to easily report crimes to a central database (led by Martin O'Reilly)
Open Free Ad Hoc Telecommunications Infrastructure: A smartphone app that enables free phone-to-phone communication (led by Salvatore McDonagh)
Teresa Dillon, Lead Curator of the Hack the City festival designed the programme of events to take place. Jeremy Wales, Architect from Dublin City Council acted as the main coordinator between the Science Gallery and Dublin City Council.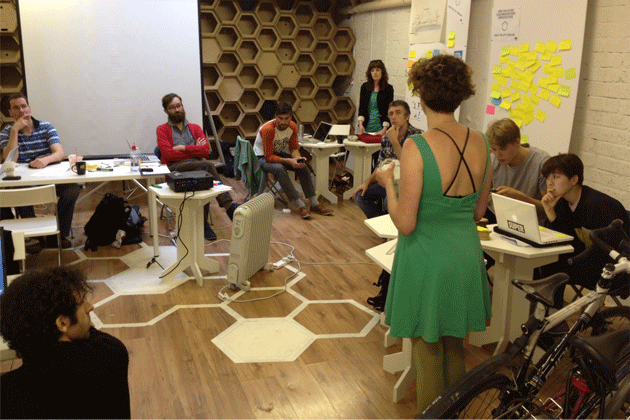 The plan was that the Ideas Lab would be directly informed by real issues in the city and DCC staff gave presentations on idfferent matters the Council deal with: Dick Gleeson, City Planner, on current and future projects in Dublin; Owen O'Doherty on the Public Realm Strategy and Pivot Dublin; Deirdre Ni Raghallaigh on Dublinked and Jamie Cudden on recent citizen surveys such as 'Your City Your Voice'.
Other City Council staff also gave mentoring assistance to the teams including the South East Area Office, the Traffic Noise & Air Quality Unit, the Public Realm team and the Arts Office.
The teams were also assisted by 'Platoniq', a non-profit organization made up of cultural producers and software developers, who apply digital and network media to enhance social entrepreneurship and citizenship. They focused especially on crowdfunding techniques to finance their ideas.
The Lab was made deliberatley accessible with a dsiplay shopfront and the public were also invited to drop in and view the developing ideas every afternoon.
The Lab culminated on Saturday 24th June with the teams pitching their ideas to a jury in the Science Gallery comprising Lord Mayor Andrew Montague, City Architect Ali Grehan, director of the Science Gallery Michael John Gorman,  Noel Crawford of IBM amd software developer and writer Josh Klein,  co-curator of Hack the City.
The Hack the City exhibition runs in the Science Gallery until 8th September.