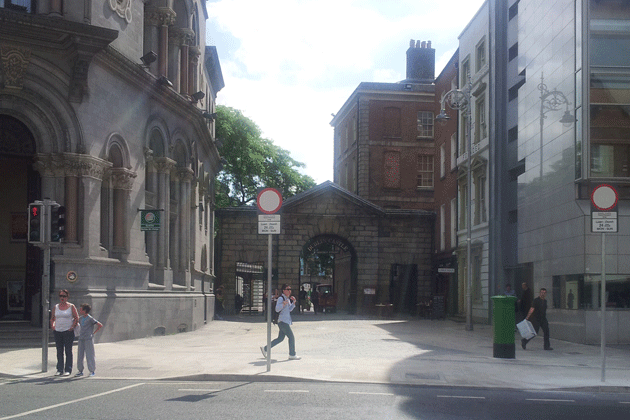 It's nice to see Palace Street public realm works recently completed – a good example of how a relatively small project can greatly change the quality of experience. The space is at the main pedestrian entrance to Dublin Castle and a dark piece of bottle neck road has been transformed into a good quality ante-room for the Castle courtyards.
The project is also a good example of collaborative working: it was intiatied by the Heritage Officer, delivered by the Roads Dept and City Architects and a good collaborative relationship with the contractor, Richard Nolan, was central to achieving the high quality of materials and finishes. The work done on the project was recorded so that it will be the basis for a manual on working with historic paving in Dublin City.
There is also history embedded in this paving.
Granite paving used at Palace Street was uncovered during an archaeological excavation at the location of the former Richmond Barracks in Inchicore.  The excavation was carried out as part of the Phase 1a development at St. Michael's Estate Regeneration in 2010.
Richmond Barracks was the place where the leaders of the 1926 rising were interned and court-martialled.
If you look carefully at the paving in Palace street, you can see the outline of the rusty barrel bottom which stained the granite pavers. An extract plan and photo from the dig are below.