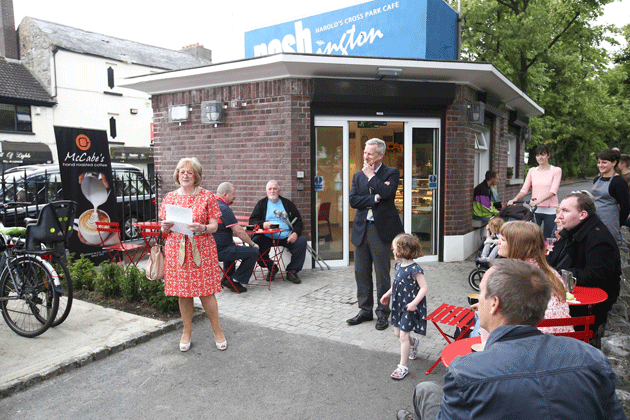 Last month saw the opening of the new tearoom in Harold's Cross Park.  The new cafe, operated by Noshington Café, sees the reuse of an existing structure, dating from 1943, which had been unused for many years.   The cafe will be open 7 days a week throughout the year and is located at the western end of the park, facing Mount Jerome.  It was designed by City Architects and represents the first in a series of new cafes and tearooms planned for the city by DCC Parks and Landscape Services Division.
The structure was originally a public toilet, or public convenience as they were officially known.  It was one of a number of such facilities constructed across Dublin from the late 19th Century on.  By the middle of the 20th century there were 70 public conveniences in operation in Dublin.  Their locations stretched from Stephen's Green and Ormonde Quay, extending to the suburbs of Terenure,  Glasnevin, and  Sandyford.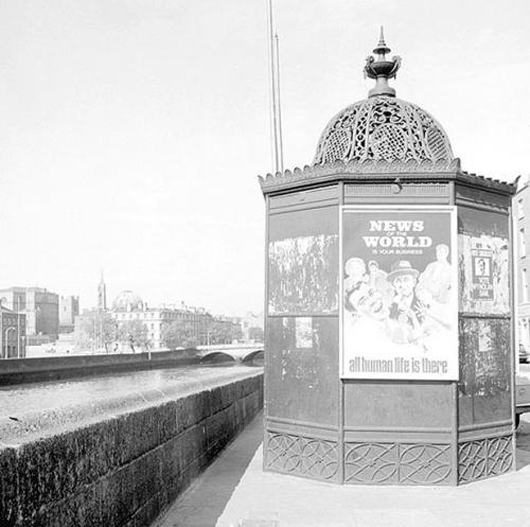 One such structure, Ormond Quay, 1969.  Image: National Library of Ireland
However, by the second half of the 20th century, the public conveniences began to be used less and less.  As their use decreased they increasingly became magnets for anti social behaviour and increasingly difficult, and costly, to maintain.  Between the 1970s and 1990s the structures were closed and boarded up.  Since then they have suffered a mixed fate.  The facilities on O'Connell Street, plagued by anti-social behaviour, were removed from the street while the demolition of another in Ballsbridge last month received coverage in national newspapers.  While some, such as those on College Green or Kevin Street, are largely underground, others remain in prominent locations such as parks or squares.  Often these structures were carefully detailed and well built and lend themselves well to alternative contemporary uses.  The structure at the junction of Leeson Street and Adelaide Road, originally built as a water pumping station, public toilets, and kiosk has been in use as a cafe for many years.  It has received attention from websites such as Built Dublin and Archiseek, and even featured in the Open House programme.
Kiosk on Leeson Street, Adelaide Road. photo taken from builtdublin.com
Among those situated in public parks were the facilities in Harold's Cross.  In this case the structure was located at the edge of the park with its edge facing Mount Jerome Cemetary.  It displays many handsome features such as its mellow redbrick detailing; concrete roof overhangs and glass block windows.  A tasteful plaque facing the main road bears the year of its original construction.  However, given the nature of its original function, the structure was essentially a closed box.  The brief thus focussed on ways of opening up the building to its surrounds while retaining its original character.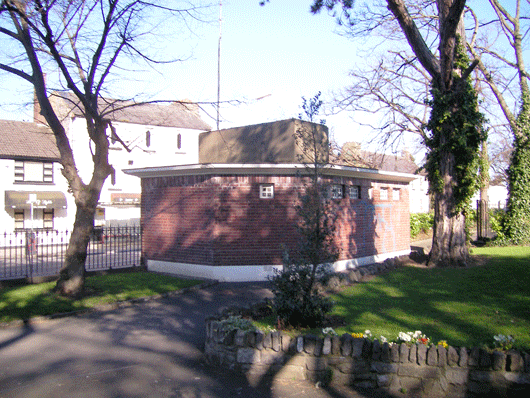 Closed box; the structure prior to refurbishment
The first decision in this strategy was to relocate the entrance.  While the previous public convenience was entered through one of two doors on the Harold's Cross Road, the new cafe will be entered from the opposite corner.  This will open the cafe to the park with new paving and furniture for those who wish to enjoy their coffee in the open.  All of the blockwork walls within the structure have been removed to create an open space, lit from both sides by generous openings inserted into the structure.
As the building had been sitting idle for some years, it required a certain amount of repair and cleaning.  Its overhanging concrete roof has been repaired while bricks removed in creating new openings have been reused elsewhere in the structure.  The replacement of an existing water tank on the roof of the structure presented the opportunity to create a vibrant sign for the new cafe.
Image: ConorMcCabe
The tearoom will be operated by Noshington whose sister cafe is located nearby on the South Circular Road.  The Cafe was officially opened last month at a public event attended by former Lord Mayor Cllr. Mary Frehill as well as representative from DCC Parks and Landscape Services and City Architects.
Speaking at the opening Cllr Frehill said
 "The new café is a great addition to the facilities in Harold's Cross Park. As it is very conveniently located near the playground I am sure that it will be a big hit for parents and guardians of children in particular.  I congratulate Dublin City Council on their creative re-imagining of a disused building and wish Noshington Café every success in operating it."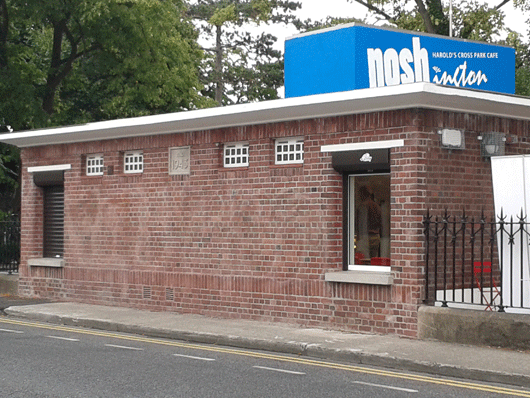 While Elizabeth O'Sullivan from Noshington added
"When an interior designer friend of ours told us that Dublin City Council were turning this unused building into a cafe we knew that it had huge potential both in terms of business but also in terms of enhancing what is a beautiful and underestimated park. We have been coming to this park ourselves for some years now as our little boy loves the playground and it has been great to see so many of our customers from the south circular road popping in to visit us

Dublin City Council are to be congratulated on what is a great initiative to make use of buildings such as this and we know from feedback that locals and park users alike are all for it here and also glad to know that this principle is being rolled out in other parks across the city. We've enjoyed being the guinea pigs for this the first one and we hope to have a good stab at getting some of the others.

We'd like to thank everyone in Dublin City Council parks department for all their help throughout the last 6 months and we hope that we can now make this work for all concerned. We'd also like to thank all the lads who look after the park here itself and who do such a great job in keeping it looking so smart for their help in all the practicalities of setting up and staying open"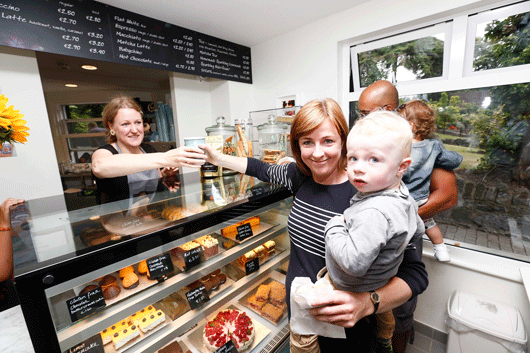 Serving the customers on open day. Image Conor McCabe
The Harolds' Cross Park Cafe is the first in a series of tearooms planned for the city's parks.  It is hoped that a second, reusing the arches in St Patricks Park, will be opened later this year.  Another is planned for Herbert Park in Ballsbridge in spring 2015.  Projects such as these present an opportunity for the re-use of often overlooked or underappreciated structures within our city while also improving the city's public realm.
Noshington in Harold's Cross Park is open 10am-6pm, Monday to Sunday during the summer and 7.30am – 4.30pm during the winter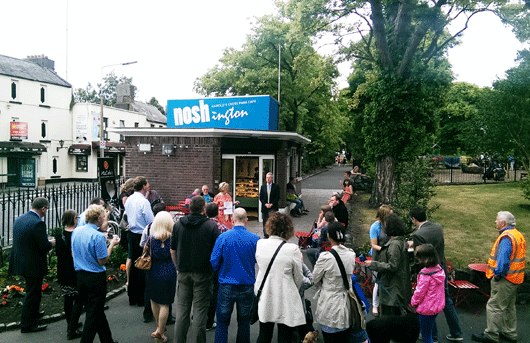 The opening of the new cafe