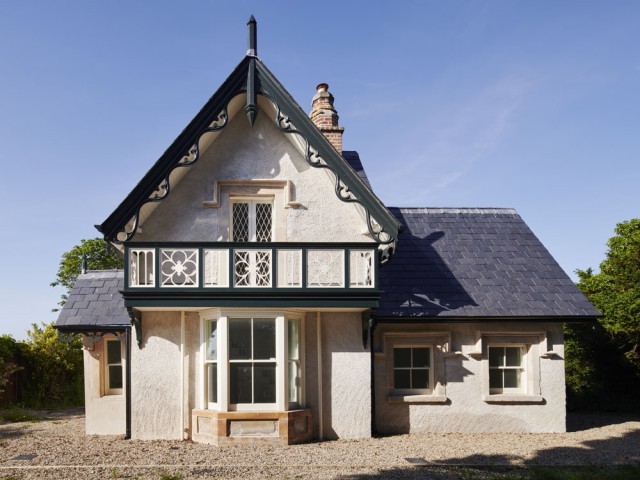 Images by Ros Kavanagh
Dublin City Council are proud sponsors of Open House Dublin and Sealawn Lodge and the restored St Anne's Follies are some of the of the fine examples of Architecture to explore on Saturday the 13th of October with free guided tours by expert volunteers. More information on the Open house Tour can be found here.
Sealawn Lodge, a protected structure is located in the south-eastern corner of St. Anne's Park, Raheny, adjacent to the James Larkin Road. St. Anne's Park which covers 107 hectares is the largest managed public park under the control of Dublin City Council. The current park lands were originally part of the Ardilaun Estate, owned by the Guinness family from 1835. The estate was acquired by Dublin Corporation and opened for public use as 'St. Anne's Park in 1957. The park represents the last remaining example of an Irish demesne landscape in Dublin City.
Sealawn Lodge, an English Tudor Picturesque style gate lodge was likely never intended to be a residence, rather a decorative gate lodge within the planned landscape around St. Anne's with its carefully set out walks, vistas and follies.
The gate lodge retains its picturesque charm being enhanced by the survival of its original plan form, many original external features and materials such as the carved fretwork, steeply pitched roofs with deep overhangs and intricate junctions, large brick chimney stack, cast iron diamond patterned French doors leading to the decorative first floor balcony resting on a tripartite bay window below.
The architectural value of the building may be seen in its setting, lying just inside the original main entrance gates to St. Anne's House, originally addressing the avenue / drive with its most decorative facade. Thus as an integral part of the original planned demesne landscape that surrounded St. Anne's House and one of the few remaining standing structures still in use, it is of architectural, historical and social importance.
The lodge although lived in continuously since at least the 1950's was quite damp and in need of substantial repair and upgrading. The recent works completed in 2017 included the extensive repair and conservation of the surviving original historic fabric with reinstatement of lost features where deemed appropriate.  An existing small single storey lean-to was replaced with a contemporary extension providing a new kitchen, bathroom and private courtyard space.
All works were carried out under the supervision of Dublin City Council Architects, to best Conservation Practice and the Architectural Heritage Protection Guideline, the Advice Series issued by the DoCHG. The works were devised to cause minimum interference to the building structure and/or fabric retaining the maximum amount of surviving historic fabric in situ, including structural elements.