One of our current projects here at Dublin City Architects is the administration of the Built Heritage Jobs Leverage Scheme.  This scheme aims to assist the conservation of historic buildings and structures by providing both part funding and the expertise of local authorities. 
The scheme has a particular focus on small scale projects which require the know-how of skilled trades-people and conservation professionals.  This work attempts to preserve the character of historic buildings by making necessary repairs and improving energy performance where appropriate.  It is essential that the work carried out is sympathetic to the original structure, with a standard consistent with its original design and execution.
The scheme was limited to protected structures or those with protection pending.  Buildings which form part of an Architectural Conservation Area were also considered.  Dublin City Council received over 100 applications from which over 70 projects were chosen.  The nature and scale of these projects vary greatly.  Below is just a small sample of the work being carried to Dublin's historic buildings in 2014.
Former Commercial Union Assistance Company Building, College Green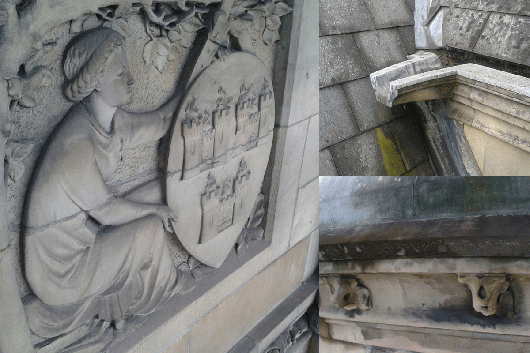 Victorian Sandstone Details, College Green
A picturesque composition in the largely classical College Green, this building makes use of its prominent location with two gabled fronts and a turret at the angle.  Its facade features an array of mullioned windows and a pointed ground floor arcade.  It was designed by the father son partnership of Thomas Manly Deane and Thomas Newenham Deane and completed in 1885.  It is currently undergoing work to its roof as part of the Built Heritage Jobs Leverage Scheme.
10 Mill Street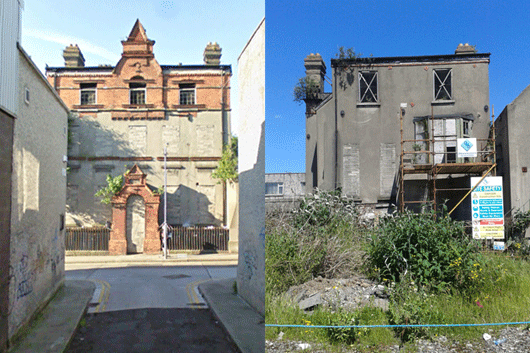 The former mansion as seen on Google Street-View, and during restoration works, 2014
Originally an 18th Century mansion, 10 Mill Street was converted into a school and mission in 1895. It terminates the vista of from Newmarket and is 3 storeys over basement in height and 5 bays wide.  Despite its severely dilapidated condition it does retain some 18th century features along with its remarkable Victorian pedimented gable and porch.  Repairs are currently being carried out to the structure of this building.
134 James Street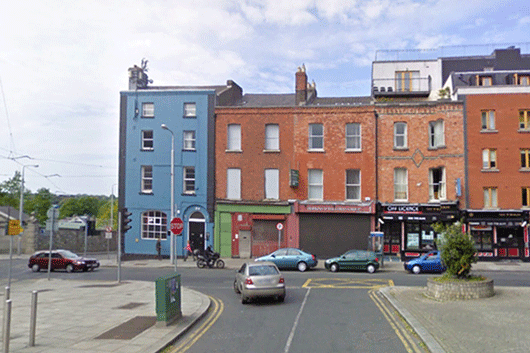 Part of James' Street, from Google Street View.  Number 134 is the first building on the left.
James Street features a number of Georgian townhouses dating from the first half of the 18th century.  Although some are in poor condition, many display period features which have disappeared from other parts of the city.  The work to 134 James Street will focus on repairs to the timber joinery details on the building's interior.
St Patrick's Deanery, Kevin Street
The Gates at St Patrick's Deanery, before and during repairs
Work is underway to repar the historic iron work at St Patrick's Deanery which faces onto Kevin street.  These gates date from 1780 and show condsiderable artistry in their craftsmanship.  However,  their condition has deteriorated in recent years.  In order to carry out the neccessary works the gates must first be removed from the walls of the deanery.  Following this they are cleaned, restored and repainted as required.  This work is done using only traditional techniques and materials.
House at Rathgar
This detached house dates from the middle of the 19th century.  As with many Victorian buildings in the city it shows many exuberant details and finishes.  This is the case particularly with the roof and gables of this building.  Unfortunately, the house has been left derelict for some time.  As part of the Built Heritage Jobs Leverage Scheme work has begun on repairing this building.  Fittingly, this process began with work to secure and repair the roof of this property.