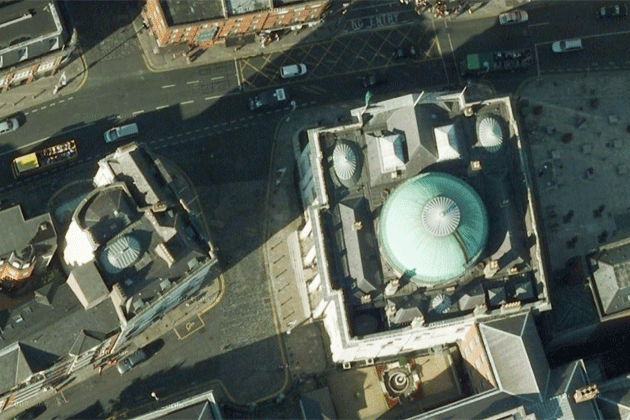 UPDATE: Details of the Cork Hill Public Realm Design Workshop confirmed
The details of the workshop below are as follows:
Date: Friday 15th March
Time: 10.00am
Venue: Wood Quay Venue, Dublin City Council Civic Offices, Wood Quay, Dublin 8
Contact: email design@dublincity.ie to reserve a place
Cork Hill public realm
The temporary traffic calming works beside City Hall on Cork Hill have generated much comment. To reassure people, this is a temporary intervention and a precursor to a redesign of that space to address a number of issues: pedestrian safety, improving universal access to historic buildings and improving the public spaces which are 'the ante-rooms' for Dublin Castle.
Public interest and comment in how we make and manage public space is always welcome. As part of the design of the longer term proposal we are holding a public workshop at which design professionals, or anyone with an interest in the design of the public realm, can input their ideas as to how the complex demands of today's public realm can be accommodated in this sensitive historic landscape.
So why change the landscape at all? The main driver for redesigning the public realm of Cork Hill is to improve pedestrian safety, but in achieving a redesign the opportunity exists to provide universal access to City Hall and the Rates Office (Newcomen Bank) from Castle Street, neither of which have satisfactory arrangements at present. There is also an opportunity to greatly improve the experience of this space by creating an 'ante-room' for Dublin Castle, similar to the recent landscaping of Palace Street.
The permanent works which follow will be the subject of a 'Part 8' planning application process to be considered by the City Council. It is intended that proposals for the Part 8 will be published for consultation in April 2013 with a view to seeking approval July 2013. Pending this, works could commence late 2013/early 2014. 
We are planning the workshop at the moment, to take place in March, with the date and venue to be announced shortly. The workshop will be open to both design professionals and non-designers and if you'd like to participate then please email design@dublincity.ie.
Image: Cork Hill, Google Maps