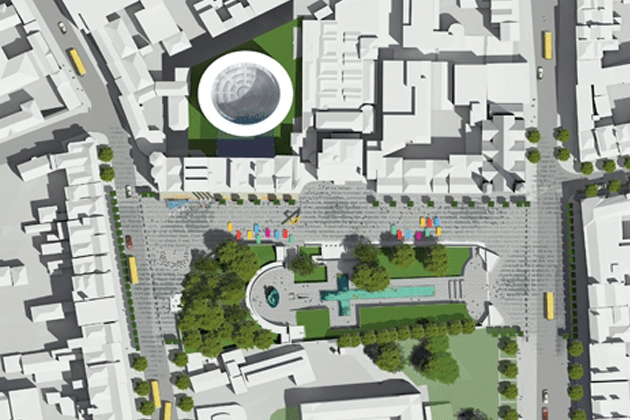 Following on from the public launch of the Parnell Square Cultural Quarter (PSCQ) project, Dublin City Council is now seeking an outstanding Design Team to deliver the architectural vision for this landmark place.
A public procurement process, to select an architect-led multi-disciplinary design team, to provide all the architectural, conservation design and contract management services required to deliver the centre piece development, is underway.
The development of over 11,000m2 in size will be anchored by a new City library which will broker a mix of cultural facilities for Dublin at the former Coláiste Mhuire site and some adjacent properties.  There will be a mix of new buildings and renovated historic buildings, integrated with the existing Dublin City Gallery, The Hugh Lane.  The complex of historic buildings is of high architectural significance and will require appropriate care in its design treatment.The north side of Parnell Square will be re-landscaped to provide a high quality external public events space.
Seed capital for the project is being provided by international real estate investment and services company, Kennedy Wilson, on a philanthropic basis. The company, which has its main European office in Dublin, will also lead further required fund raising and provide expertise to assist in management of the development.
"The Parnell Square Cultural Quarter landmark development will draw people from across the city, inspiring economic and physical renewal along the Civic Spine. It will be the most important cultural development in Dublin for 100 years. Dublin City Council is seeking an architect led multi disciplinary design team who can match the ambition of the project, delivering exemplar architectural, conservation and environmental innovation. The development is a rare opportunity to introduce significant contemporary architecture within an historic Georgian terrace, creating a place unique to Dublin", said Ali Grehan, Dublin City Architect.
"The objective is one of achieving a quality cultural offer coupled with an equality of access and provision.  The City library will provide a platform for learning and cultural exchange on many levels, ranging from the City's international standing as a UNESCO City of Literature to working for the cities communities. The city is ambitious for a centre of excellence complex, a service envelope that will inspire and excite, welcome and include and provide places for people to learn, create and participate.  Dublin  is a City that thrives on stories and now Dublin is writing a new story" said Margaret Hayes, Dublin City Librarian.
The vision for the cultural quarter is set out in the Parnell Square Cultural Quarter Vision Document April 2013 and is available to view at www.dublincity.ie/parnellsquare
The tender notice and submission requirements are available on www.etenders.gov.ie
The deadline for submission of Expressions of Interest is Friday, 5th July, 2013 at 12 noon.