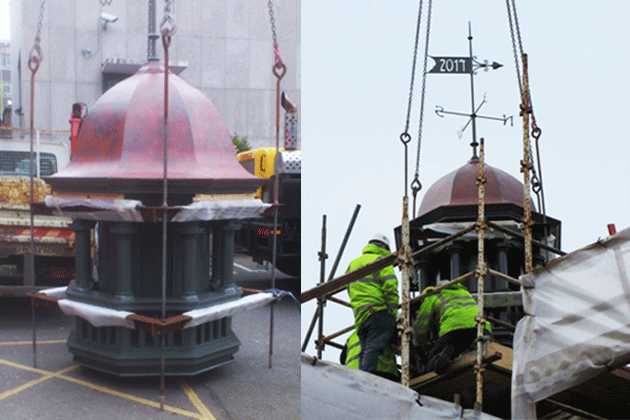 Saturday 12 April 2014 saw Kevin Street Library reunited with its cupola.  City Architects have been carrying out work on this hidden gem in the city to bring it back to its former glory.  The Cupola was removed in 2012 as part of the libraries refurbishment, having suffered for many years from corrosion.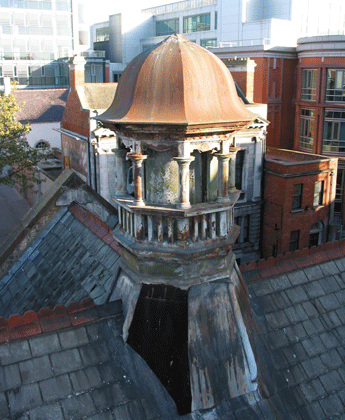 Kevin Street Cupola 2012, showing some of the corrosion to the original piece
Since then the cupola has been in the loving hands of Bushy Park Ironworks.  The extent of the corrosion was so great that the piece had to be all but reconstructed in galvanised steel.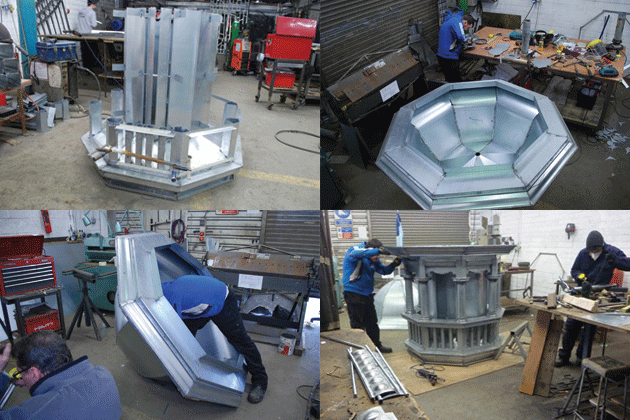 The work carried out included several layers of painting.  The image below shows the cupola before painting, with a layer of grey primer, following a yellow layer of etch-primer, and with a subsequent green layer.  The final version is in a brass colour.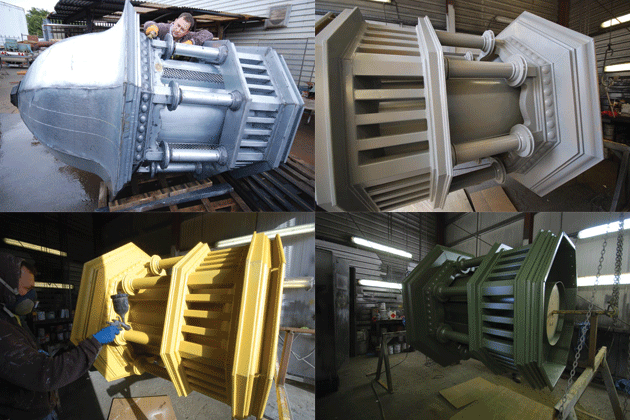 The library was originally constructed in 1904 to the designs of city architect C. J. McCarthy and featured a delicate weathervane perched upon its cupola.  Its design showed the influence of many of the Carnegie Libraries being constructed at the time in Ireland and the UK.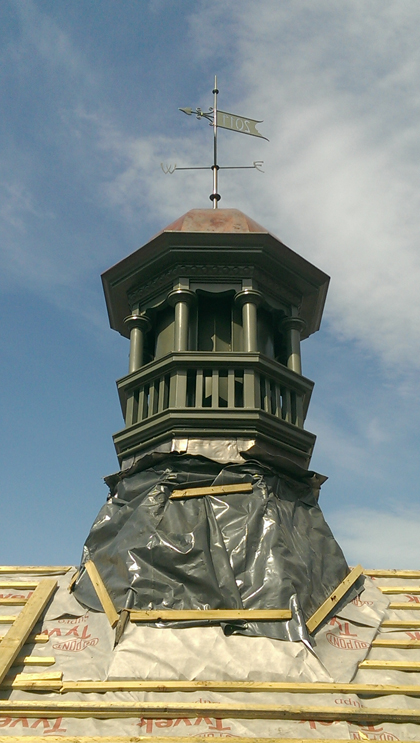 Kevin Street Cupola, featuring its new weathervane, 12 April 2014
A conservation plan for the Library was prepared by City Architects.  Works are currently ongoing to upgrade the Library's facilities while preserving its impressive period spaces and historic features.
The next phase of the refurbishment works are currently underway with Clancy Construction as the Main Contractor.  The works are principally involved in the entire re-roofing of the building, including specialist repairs to the exiting roof timbers and clerestory glazing.  The restoration of the brickwork and sandstone features and crests are being carried out by Oldstone Conservation Ltd.  Casey O'Rourke Associates are the design team leaders for roofing project, working with City Architects Division.  Work on this phase of the building will be completed early in the summer, and the internal fitout for a new 21st Century Library will then commence.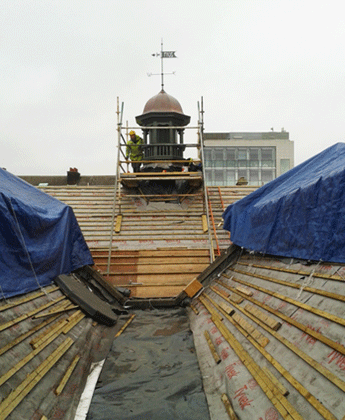 First view of the newly reinstated cupola, 12 April 2014
We'll keep you posted on further works being carried out on this hidden gem as they progress.