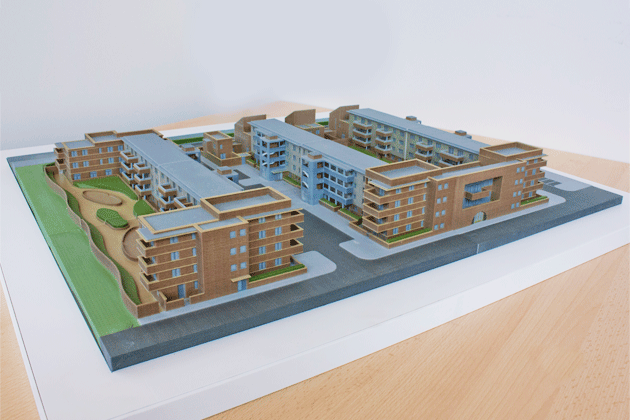 As part of the Dolphin House regeneration project a 3d model was commissioned from JD Hacketts Ltd using 3d printing technology.  
So what is 3d printing?
Essentially it involves the creation of three dimensional solid objects from 3d drawings.  For the Dolphin model a 3 dimensional drawing (in this case a sketch-up model) was sent to the printers.  They analysed the drawing in terms of its size and the scale of model required.  The Dolphin model is at 1:200 scale, the final size being around 500mm x 500mm.  As the 3d printer can only print an object of approximately 250mm x 250mm the model was divided into four pieces called tiles which were then fixed together on completion to form the final model.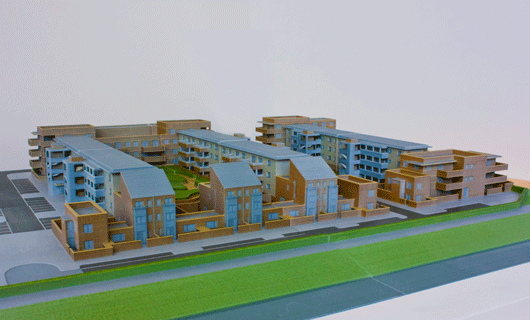 How is the model printed?
The 3d printer essentially works like a normal 2d printer with the information from the drawing sent to the printing heads.  Unlike 2d printing however, where the heads simply draw lines on a piece of paper here a thin layer of a special resin (each layer is only 0.1mm thck) is deposited onto a base and then a bonding layer is overlaid.  Then the next layer is applied and so on until the model takes shape.  Colour is applied as required to each layer (a possible 6 million colours are available).   The process is very detailed and slow with each inch of the model in height taking about an hour to print. Once completed, excess resin dust has to be blown away using a special tool and finally a layer of glue is added to the model to define the colours and add strength.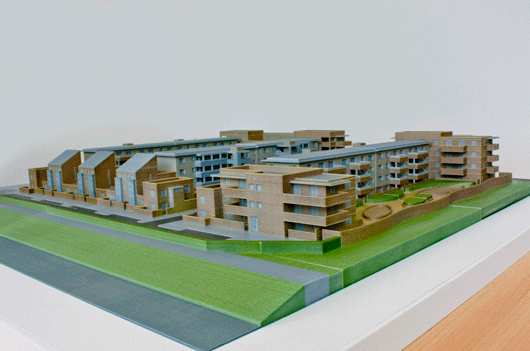 Apart from architectural models 3d printing is revolutionising the world of manufacturing especially in its use in creating spare parts.  The American military for instance use this technology to "print" parts for its aircraft at its bases abroad.
In a recent Irish Times article, James Woudhuysen, professor of forecasting and innovation at De Montfort University in the UK a futurist who suggested internet TV as early as 1993, and warned about a dotcom bust in 1999, believes 3D printed houses and modular homes built in factories could revolutionise the future of housing, transforming how homes are designed and built.  He says that 3D printed homes are not just some future thought, but they are here.  He points to a company in China – WinSun Decoration Design Engineering – which has already harnessed 3D printing technology to build 10 one-storey houses in a day.