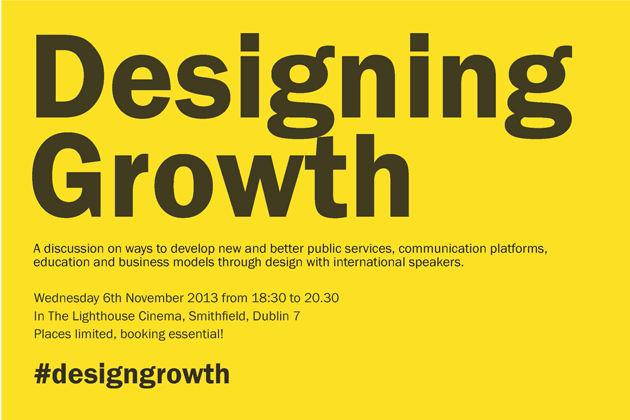 On Wednesday 6th November Dublin City Council will be hosting a discussion on ways to develop new and better public services, communication platforms, education and business models through design; within the context of emerging EU policy and a national economic strategy.
We'll be hearing from people involved in public policy and strategic development across broad areas. The evening will be interactive and we'll be drawing on contributions from a diverse audience.
Joining us as guest panellists will be: 
John Moran, Secretary General at the Department of Finance, Ireland.
Robin Edman, Chief Executive of SVID (Swedish Industrial Design Foundation) and Vice President of BEDA.
Marco Steinberg, Founder of Snowcone & Haystack, Finland and former Director of Strategic Design at the Finnish Innovation Fund
Maureen Thurston, Principal, Design at Deloitte Australia and CEO of Good Design Australia.
Chair. Dr. Jane Suiter, Political scientist in the School of Communications at Dublin City University.
Date
Wednesday 6th November 2013
Time
Doors open 18:00
Discussion 18:30 to 20.30
followed by reception
Venue
Lighthouse Cinema, Smithfield, Dublin 7
Places are limited, booking essential by email to: design@dublincity.ie
There's a lot of growing room in design for Dublin and Ireland. This is useful in a context where we need to activate our economy, deliver more cost effective public services and rethink how we govern the city.
Design is about more than aesthetics, it's a strategic approach to solving problems and challenges. The process is human-centred, a form of practical creativity which is results focused. It is a useful educational tool in a rapidly changing world where we need to learn how to be adaptive and open. It can help us develop more responsive products, services and systems in both the public and private sector.
We're natural born designers in Ireland, so how do we promote and capitalize on this asset? Can we adopt a systematic approach to connecting the excellent work being done across different sectors? Should we focus on communicating the value of design to people's day to day lives? Do we need a national policy, a promotional body or other approaches? This is the chance to talk about a national vision for developing design as an asset.
Panellists:
John Moran plays a central role in designing and implementing Irish government policy as Secretary General of the Department of Finance. His department is also concerned with overall management and development of the public sector, including modernisation and policy formulation. He is currently leading the re-design of Ireland's Medium Term Economic Strategy and spearheading initiatives critical to Dublin's standing as world class city.
Robin Edman is an industrial designer who has worked throughout his career towards integrating a better understanding of the importance of design. Measuring design and the balance of functional, emotional and social values plays a key role in his work in this area. Robin is Vice President of BEDA and is working with other European Design promotion organisations developing European Design in Innovation policy.
Marco Steinberg is a former Associate Professor of Architecture at Harvard Graduate School of Design and a former Director of Strategic Design at the Finnish Innovation Fund, where he launched a portfolio of initiatives to address the need for strategic improvement in the public sector.  He believes there is a need to shift from trying to improve the efficiency of what was to redesigning what could be. His passion is in helping leaders find the pathway to these strategic improvements.
Maureen Thurston is an Industrial Designer currently working in Deloitte, Australia as a partner in an executive team committed to top-line growth by design. She is also CEO of Good Design Australia. Maureen says that "many topics coexist within the domain of design", but she is particularly interested in collaboration, co-design, design for social change, public sector design and service design. One of her specialties is leveraging design as a means to fuel innovation and growth.
Dr. Jane Suiter is a political scientist in the School of Communications at Dublin City University. Her research is in partisan spending and in deliberative and participative democracy. She is deputy research director of the Irish Constitutional. Jane is a former journalist having worked as Economics Editor at The Irish Times.
Designing Growth is organised by Dublin City Council through the PIVOT Dublin project as part of Design Week 2013 supported by Arup.